The quality of our products become a sign of modern agriculture.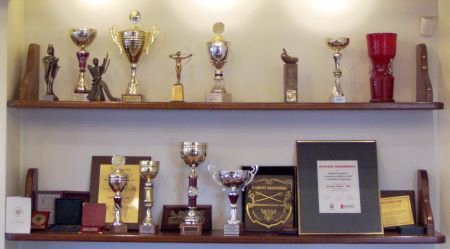 The machinery and devices produced by us found many satisfied users in Poland and other European countries.
They proved its advantages  even in hard climate conditions of Scandinavia.
The quality of our products is well recognized not only by the farmers but also by most important societies in our country.
The quality of BIN products was acknowledged many times.
At the moment it is not possible to reline all prizes received by our company.
The most important for us are:
Master of Agro League 1993
Agro Businessman 1993
Nomination to the national compete "Poland Now'  1995
PIMR prize  "Product for medal" 1996
Main prize " Partners 1996"
Agricultural machine of the year 1996
"The company of the year 2006" - distinction of the "Gazeta Wyborcza" national daily paper
"Gold target" of the Agro Businessman 1998
"Hit of the year 2000"
" Lever of  2001" of the "Technical review magazine"
Gold medal of POLAGRA FARM  for BIN silos controlled by BIT grain management system on POZNAN International Fars in 2005
Honorary distinction Agro Businessman in  2001  for Mr. Stanisław Kaszubski Vice President that is  responsible for strategy and development
Diploma from governor of kujawsko-pomorskie voivodeship  (region)  because of incredible deserts in development of agricultural economy in kujawsko-pomorskie voivodeship and  reaching European standards in manufacturing process -2004
The company  "BIN" Ltd. become to exclusive  club of Business Gazelles  (the club of the companies with rapid development of the economy)  - 2004 i 2005
"GRAND MERCURE"  medal of POZNAN International Fairs 2006 for outstanding marketing activity , active participation in fairs , outstanding participation in events,, important position on agricultural market, new products development   based on advanced technology , good promotion of the company brand, its products and image.
Honorary  distinction  "Golden Engineer of the year 2006 "  for Mr. JAN KRZEMIŃSKI President of the board given by " Technical  Review"  (one of the most important specialized magazines in Poland)
Prize "Hit of the audience" on International Fairs  POLAGRA - FARM 2007
Golden Shield of Agro Businessman  2007 for  Stanisław Kaszubski Vice President of the company
Honorary  distinction  "Silver  Engineer  2008" of "Technical Review" for  Adam Krzemiński – silos designer
Gold Medal on POZNAN International Fairs 2008
Gold Medal of KA PASESSI International Fairs in Lithuania for silo NBIN200WU equipped with spiral stairs that provides easy service access -2010